Um… so isn't summer supposed to be ending?
I really think someone needs to inform Mother Nature—she's apparently trying to extend this heat wave!
I was so excited to go to Matthews Alive (a small town festival) today but it was just too hot! The little man was miserable! The hubs was miserable! And I was BEYOND miserable! It's too stinking hot!
Anyways, let's get on to these FABULOUS FEATURES!!!
With the most views this week:
Now, a few of MY favorite things: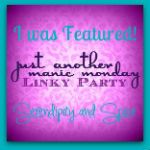 No party this week
But, make sure you come back next week for another Manic Monday!!