Have you ever noticed that as soon as you decide that you're going to start eating healthier and get in shape that your sweet tooth goes insane?
Mine sure does—once I decide to start a diet I immediately can't stop thinking about delicious pastries, yummy cookies, decadent chocolate, and when stuff this amazing is linked up to the Manic Monday Linky Party I can't help but drool and dream of sweets!
So, how about a baker's dozen of yummy desserts (click the text above the pictures to go straight to the recipe)....
Chicky's Café & Bowtique's
Donut Muffins
The Pin Junkie's
Chocolate Chip Raspberries
White Lights on Wednesday's
Guinness Gingerbread
What's Cooking Love's
Peanut Butter Cup Bread
Diamond's in the Rough's
Avocado Chocolate Pudding
Melissa's Cuisine's
Peanut Butter Éclair Dessert
The Tasty Fork's
Apple & Goat Cheese Turnovers
Nap Time Creations
Overnight Cinnamon Rolls
Craft A Spells
Snickerdoodle Cookie Bars
Easy Chinese Restaurant Donuts
Feel free to grab a Badge for your post and brag about it being featured: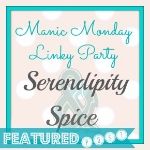 I hope you'll grab a cup of coffee and visit awhile!
-Melissa